Biopharma and parenteral industries require the systems which are contaminant as well as micro-organism free to manufacture drugs so that it ensures patient safety. When the drug is administered into a patient, it does not have any adverse reactions due to the presence of transmissible agents such as fungi, bacteria, viruses or prions. An effective Sterilisation process ensures that they are eliminated effectively from the system. Various methods are employed to sterilise the systems and ensure the end product delivered is rendered as sterile.
Sterilisation in Place (SIP) process is an extension of the CIP (Clean-In-Place) systems that is carried out additionally through sterilisation after the final wash in the CIP cycle. In-situ sterilisation of manufacturing equipment using thermal (heat) medium is done with the help of pure saturated steam (USP grade) as media at 121 Deg C and 2 bar over about 70 minutes. However, the duration may vary due to the type of system. SIP aims to perform the sterilisation of the entire production equipment either without a complete disassembly or to a limited extent possible. Sterility ensures the absence of microbial life.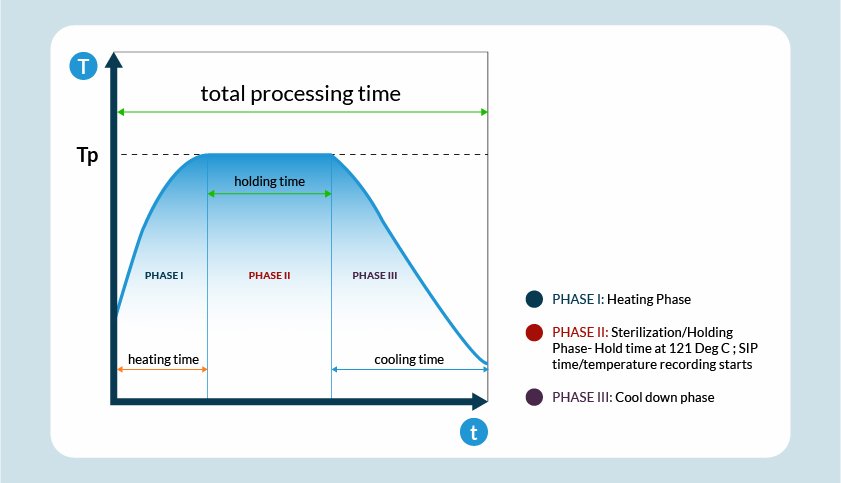 Why Do We Need SIP Sytems : –
Aseptic handling can be contaminated due to non-compliance with SOP's or faulty operations but mostly due to human intervention. These are a few critical considerations for installing SIP systems
– It increases the level of sterility assurance
– All the process equipment used during production may fail to accommodate inside the autoclaves because of their size and volume.
– The entire system is considered as a singular entity, thereby reducing multiple sources of contamination and the use of expensive aseptic connectors.
– It offers repeatable, consistent and reliable cycles that assure product safety.
SIP Process Key Design Considerations : –
– SIP systems and CIP systems together provide a complete assurance of contaminant-free Manufacturing operations
– An efficient SIP system design is vital to the manufacturing operations, and ideally, it should be considered at the conception stage of the plant/facility
– There should be an adequate and effective steam distribution throughout the plant
– The system should be able to withstand pressures required for steam sterilisation
– Adherence to USP or any equivalent Regulatory Guideline when supplying Pure Steam.
– Complete displacement and elimination of the entrapped air/non-condensable gases by adequate air venting using microbial retentive vent filters
– No air pockets formation inside the system
– Provision for constant bleeds of steam for removal of condensate build-up at low points
– Avoiding temperature loses and condensate formation
– Securing all the connections before the commencement of the SIP cycle to ensure no leakages within the system.
– The whole of the inner surface to be exposed to steam which is being purged for sterilisation
– Monitoring and recording of the temperature at critical points, including low points to ensure efficient SIP cycle
– Parallel paths within the system having a common steam trap need to be avoided or eliminated, or both as the pressure difference during the air removal stage can prevent adequate steam exposure leading to an inefficient SIP cycle.
– The Process and Steam flow are to be maintained in the same direction
– Proper slope maintenance and drainability have to be ensured, and the possibility sagging of flexible hoses has to be eliminated
– The time delay after the evacuation of air has to be considered for components achieve set points uniformly
– The sterile process boundary needs to be protected, and complete condensate build-up has to be drained from the system, and the process equipment or vessel is cooled to prepare for sterile process operation after the desired exposure to saturated steam is achieved for a complete thermal bio-kill
– Ingression of ambient air has to be prevented through a provision by maintaining slight overpressure (sterile air) in the system at all times
Why Fabtech CIP Systems?
– WORKING WITH THE RIGHT PROFESSIONALS: Our Life Engineers understand how contamination can have a detrimental impact on pharmaceutical or drug manufacturing.
– CHOICEST DESIGN AND TECHNOLOGY ENABLER:
Our Life Engineers offer you the ideal system enabler that is successful in producing desired outcomes.
– REVIEW, EVALUATE AND CHOOSE THE EXPERT FOR YOUR CIP/SIP SUPPLY
We combine our technical expertise and business know-how along with experience to supply you CIP/SIP systems that best suit your process.
Our Strengths:
Complete CIP/SIP solution of vessels along with transfer pipings, pumps, filter housings until the inlet of the filling machine with validating instruments such as temperature sensors & conductivity sensors
Various customisable configurations of skids such as single CIP tank system, multiple CIP tanks system
Tankless CIP/SIP system option: A space-saving option and can cater to a wide range of vessel capacities
CIP skids with acid/alkali dosing provision for better cleaning efficiency
We offer systems with elaborate document dossiers such as DQ, FAT Protocols, IQ, OQ to support validation of the equipment
Training on plant operations before the handover of the systems
After-sales support for periodic plant maintenance
Global references for Installed plants